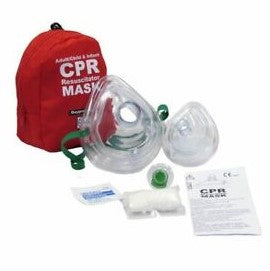 Adult & Infant CPR Mask Combo in Soft Case- 20-119
Our Emergency CPR mask is a convenient way to protect yourself during an emergency situation the pandemic, or any time.
Superior protection to both rescuer and victim
Includes a filter
One-way valve prevents the passage of liquids and secretions.
Soft, pliable bladder facilitates proper seal.
Clear plastic dome allows visibility for proper positioning.
Elastic head strap ensures a secure fit.
Adult/child and infant mask with oxygen inlet in a soft, nylon case with belt loop and clip
Includes 1 pair of gloves, 1 valve (fits both masks), and an antiseptic wipe
Sized for use on adults and children, our clear mask allows the rescuer to position it properly and monitor the victim. Our soft, pliable bladder ensures a secure seal. Mask can be used with the standard one-way valve for rescue or with our CPR Practi-VALVES during CPR manikin training. Mask may be cleaned and reused but only for training purposes. Dispose of mask and valve after patient use. Part# for replacement valves is PAN5000RV3. Features include: • One-way valve with filter – infant mask fits in case while attached to the mask • Elastic, latex-free head strap arrives attached to mask • Belt loop & belt clip • Bladder inflation ensures proper seal • Oxygen Inlet • Includes LATEX FREE gloves and an antiseptic wipe.
Cleaning Instructions:
CLEAN ONLY FOR TRAINING USE!
Soak mask for 10 minutes in a mixture of 64 parts water to 1 part bleach. Never clean valve.
Rinse with water and air dry.
Replace valve after each training use.
WARNING – This mask is a single use patient device. Discard mask and valve after patient use. DO NOT re-use this mask on a patient after it has been used for training purposes. DO NOT re-use valve.