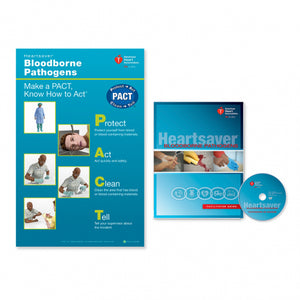 Heartsaver® Bloodborne Pathogens Facilitator Package- On Sale!
15-1036
Revised to reflect updates to the Occupational Exposure to Bloodborne Pathogens Standard (29CFR 1910.1030), which is published by the U.S. Occupational Safety and Health Administration (OSHA)
Includes essential information facilitators or AHA instructors need to teach AHA's Heartsaver® Bloodborne Pathogens course
This course teaches employees how to protect themselves and others from being exposed to blood or blood-containing materials. This course is designed to meet OSHA requirements for bloodborne pathogens training when paired with site-specific instruction.
Site-specific training: If providing this, the instructor can teach the entire BBP course and then do the site-specific training or integrate the site-specific training with the AHA course.
Package includes:
Facilitator Manual
English/Spanish DVD
One poster that contains: PACT™, with steps (Protect, Act, Clean, and Tell)
Who can teach this course?
AHA instructors
Facilitators: Any person knowledgeable about BBP as they relate to the workplace that the training will address
Replaces #80-1492