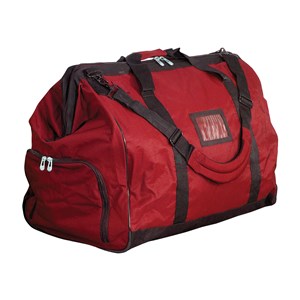 "Big Red" Gear Bag With Wheels
We looked everywhere, and this is the best bag around! This wheeled gear bag is perfect for a First Responder's turn out gear, a CPR Instructor transporting manikins, or anyone who has "stuff" to haul around!
U-shaped metal stays on the top of the bag keeps bag open for easy loading and unloading. Interior pocket holds helmet, SCBA mask, wet gear,  any gear. It's even big enough to carry all of your manikins to save you multiple trips to your car. Has exterior pocket & additional pass-through pocket for equipment storage with an adjustable padded shoulder strap for comfort. Extra heavy duty tarp-style bottom includes 5 raised cleats to prolong bag life. 
28"(L) x 22"(H) x 16 1/2"(W)
Color: Red  Can be personalized! Call 410-838-8821 and ask for more information and prices!