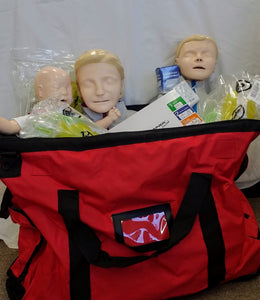 Business in a Bag- Instructor Start-Up Kit
A PPM EXCLUSIVE! Everything an instructor needs to begin teaching. Includes 3 quality Laerdal manikins.
We could not find a better gear bag anywhere. This sturdy, over-sized gear bag will save you multiple trips to your car and is wheeled for your convenience. 
This item is available only for in-store pick up. You must choose Pick Up at check-out to avoid shipping charges. You will be contacted when your order is ready to be picked up.
Laerdal Package includes;
1 Lg red gear bag with wheels.     28"(L) x 22"(H) x 16 1/2"(W) 
1 Laerdal Little Anne QCPR adult manikin- your choice of: Light Skin tone 10-546 
                                                                                              Dark Skin Tone 10-547
1 Laerdal Little Baby  QCPR-- Light Skin Tone- 11-111
                                                Dark Skin Tone- 11-112
1 Laerdal Little Junior child manikin- your choice of Light Skin tone- 10-749
                                                                                   Dark Skin tone-  10-750
1 World Point Practi-Shield- 36 pack  20-149
1 AED Practi-TRAINER Essentials  WL 120  30-215
1 The BAG ll Disposable Resuscitator w/ Bag Valve Mask- Adult 20-153 or 156
1 The Bag ll Disposable Resuscitator w/Bag Valve Mask- Child  20-154
1 The BAG ll Disposable Resuscitator w/ Bag Valve Mask- Infant 20-155
Includes a free sample of Laerdal Manikin Wipes!
 Please indicate preference of manikin color choice in "Notes to Seller" when ordering. If no preference is indicated, order will be filled with available stock.

**This is a package deal with special pricing. Items included in this kit can only be exchanged for a like item, not returned, due to discounted package pricing. Defective items must be returned to manufacturer.